Types of wool: These are the different types of wool we use at Gottstein for our felt slippers.
---
We source the wool for our felt slippers from regional sheep farmers in Europe. In addition to wool from endangered European sheep, we also source merino wool and noble, rare wools such as alpaca, yak and camel. All our wools are of course mulesing-free.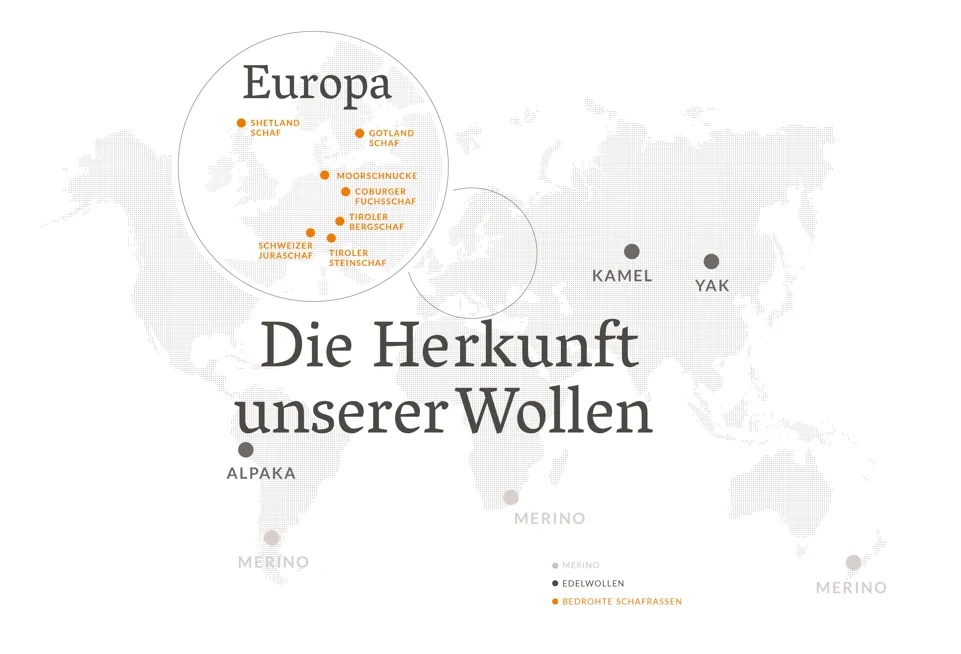 Overview of the endangered sheep breeds
---
Felt slippers made from wool of endangered sheep breeds from Europe. In doing so, you support regional sheep farming, the preservation of rare sheep breeds and biodiversity in Europe together with us. The special feature: The natural models made of wool from endangered sheep breeds are 100% undyed and untreated.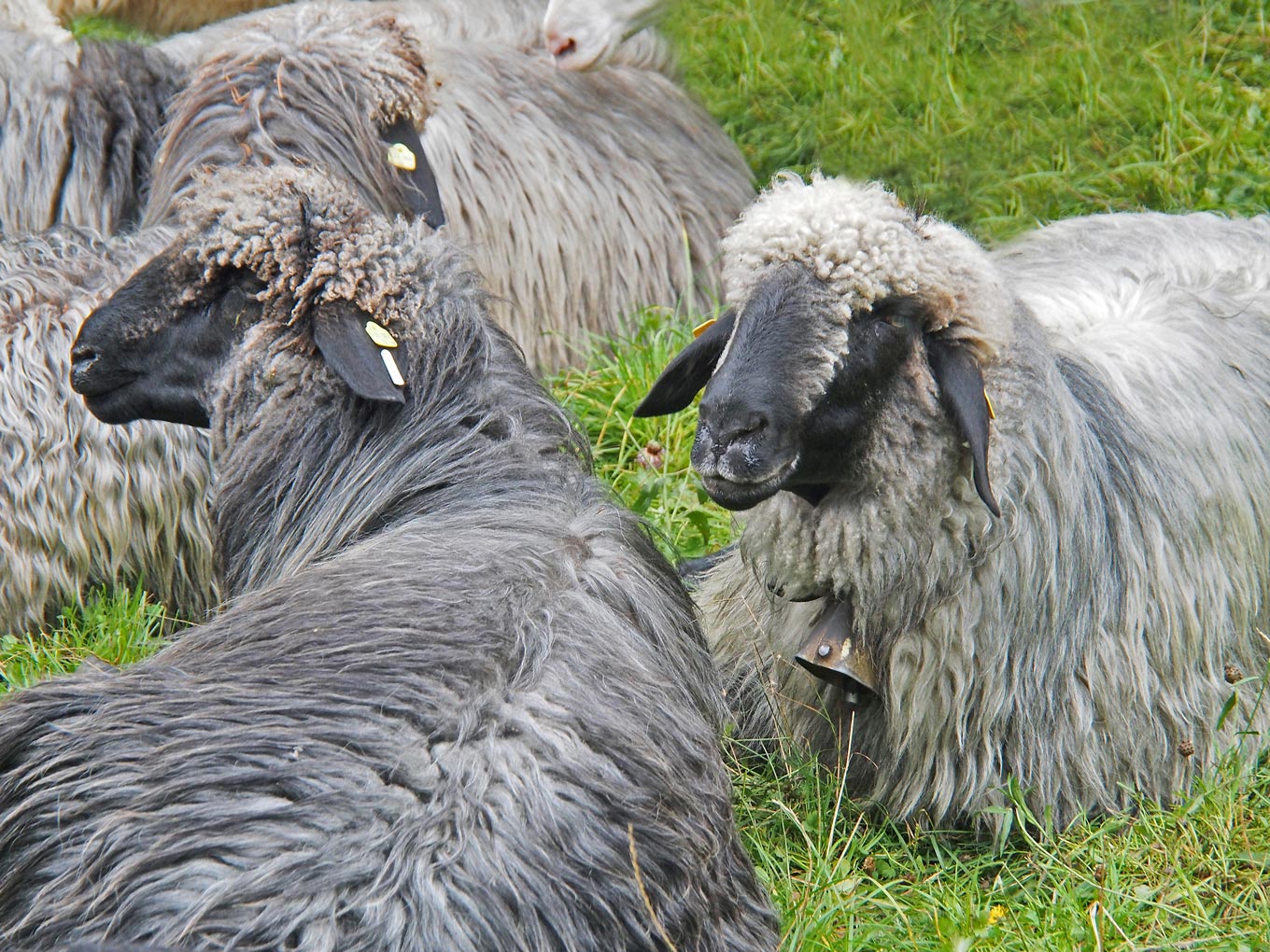 The Tyrolean Stone Sheep
The Tyrolean Stone Sheep is one of the oldest sheep breeds in the world. The breed descends from the Neolithic peat sheep and is native to Tyrol. With a warm, hardy coat of coarse topcoat and fine undercoat, the animals defy the harshest weather. The wool captivates with its silky sheen. Due to their small population, these animals are acutely endangered: there are only about 6,000 sheep left.
Tyrolean mountain sheep
The Tyrolean mountain sheep is a cross between the Tyrolean stone sheep and the northern Italian mountain masquerade sheep. It feels particularly at home in the harsh alpine mountain climate. Down-to-earth colour mottling characterises the wool.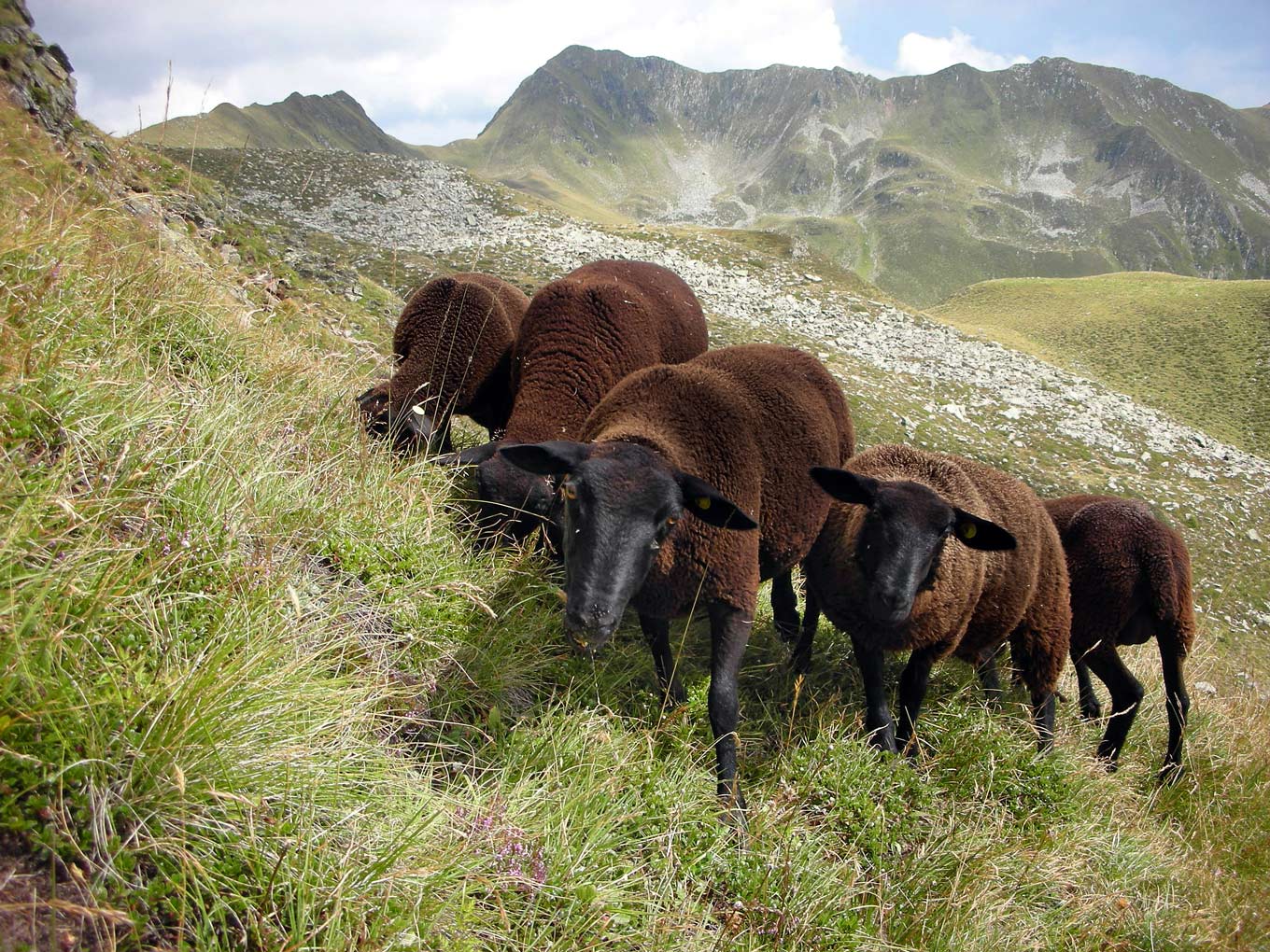 Swiss Jura sheep
The Swiss Jura sheep has its origins in the Frutig sheep and is native to French-speaking Switzerland, Austria and southern Germany. The elb-coloured wool of this mountain sheep has a particularly fine structure.
Gotland sheep
There are still about 9,000 purebred Gotland sheep on Gotland. The Gotland sheep is a very rustic and special land sheep breed. Both males and females have large horns and the wool is greyish and very soft.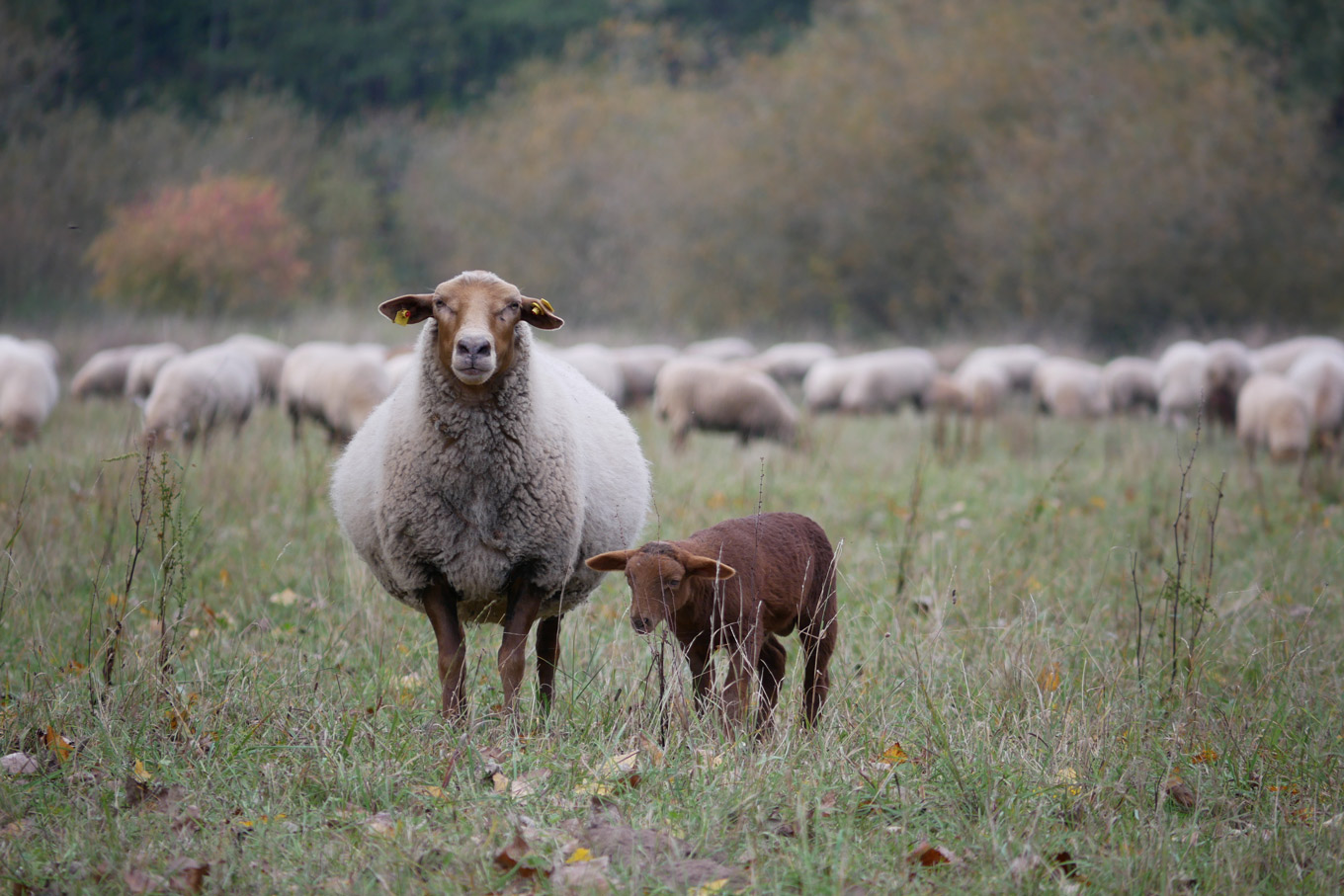 Coburg chestnut sheep
The Coburg chestnut sheep is a hardy country sheep breed. At birth, the wool is golden yellow to reddish brown and lightens over time. Currently, there are only a few thousand sheep left.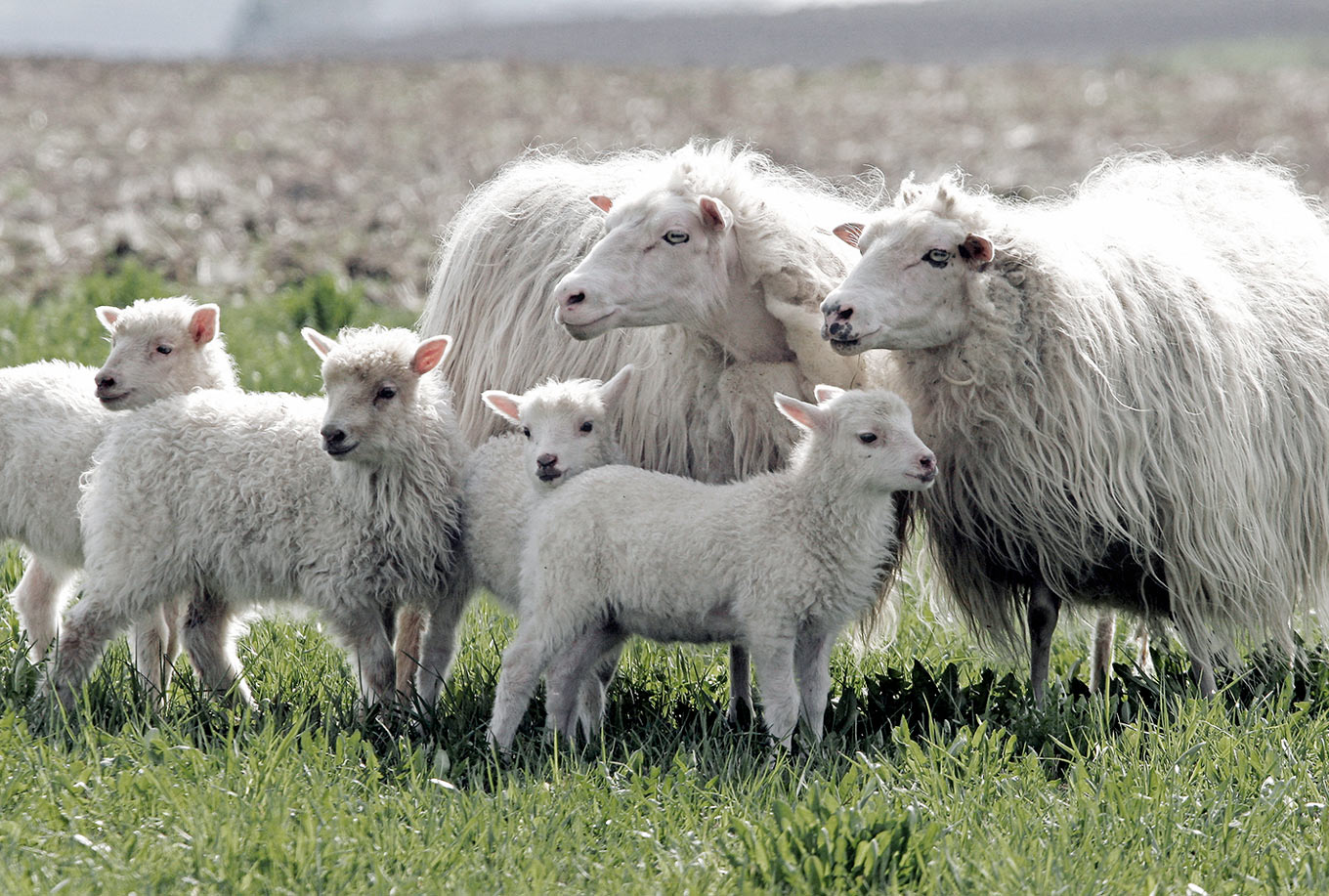 Moorland Sheep
The Moorland sheep lives in moorland areas and can - unlike its conspecifics - swim. It has a pure white coat with long, brittle overcoat and fine undercoat. Thanks to breeding, there are already 5,000 animals again.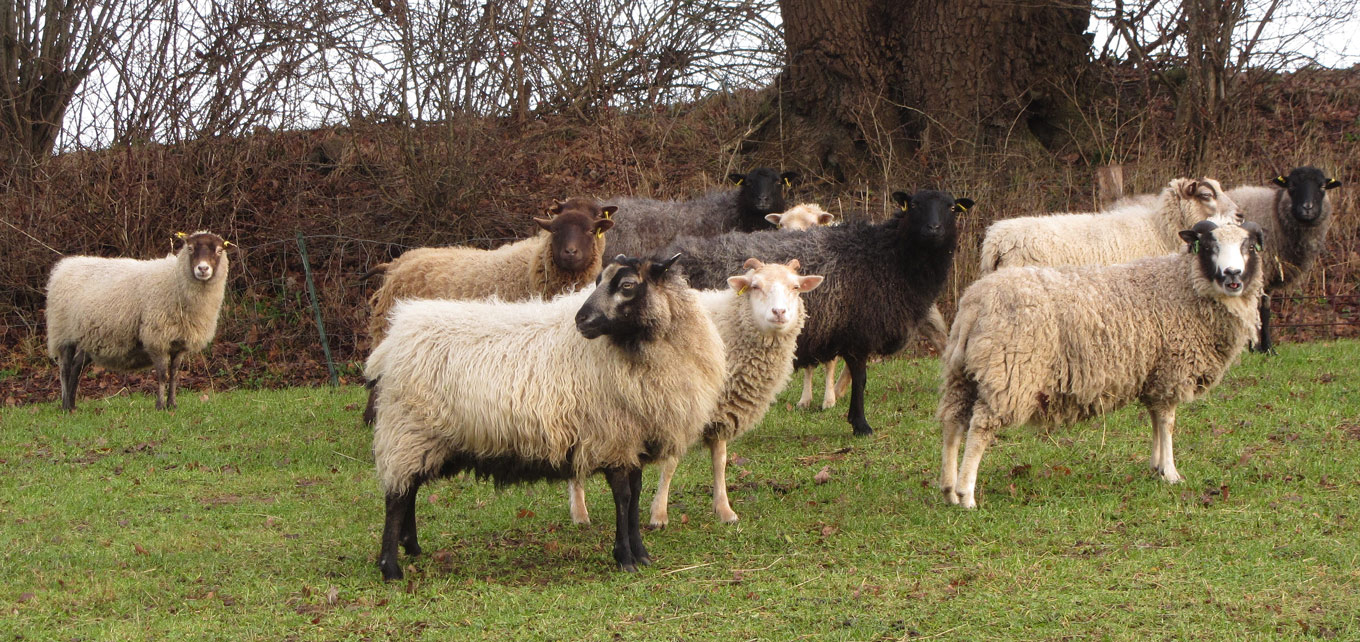 Shetland sheep
The Shetland sheep comes from the Shetland Islands north of Scotland. The fine, soft, crimped wool comes in many natural colour variations, from which we have chosen "moorit", a very warm, light brown.
Which felt slippers made of wool from endangered sheep are available at Gottstein?
We make various slippers from the wool of endangered sheep. Besides slippers, we have cottage slippers made from wool of endangered sheep breeds, felt clogs and slippers with insoles. Our Magicfelt slippers are also available with a vegetable-tanned leather sole, a rubber-cork sole or our patented felt-latex sole.
Which felt slippers made of wool from endangered sheep are available at Gottstein?
---
The rarest and noblest wills are found in the most hostile regions of the earth. Only those animals that are able to defy these extreme conditions can hold their own. As extraordinary as these animals themselves are their noble, rare wools.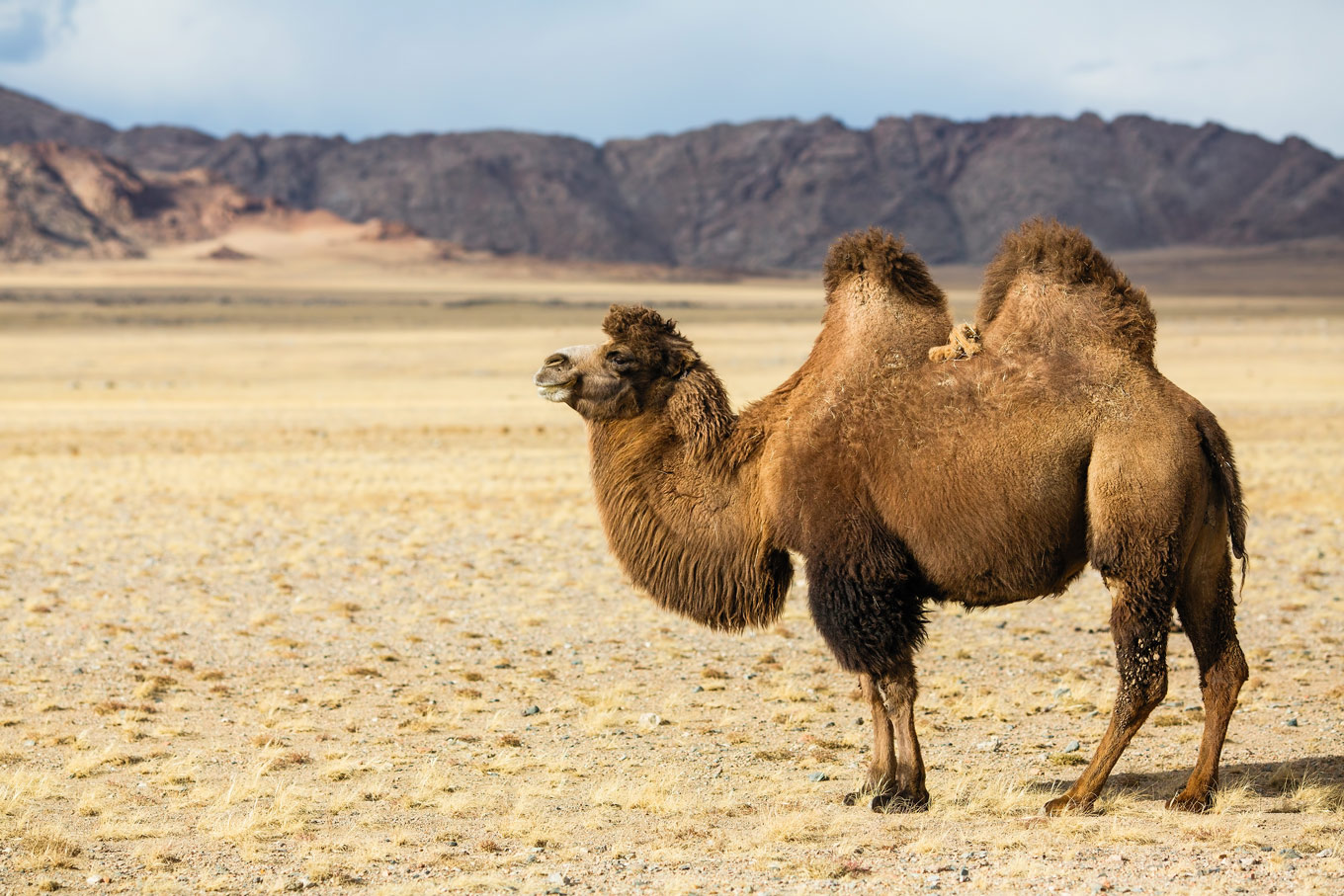 Camel
The precious camel wool is considered a noble wool and is known for its beautiful colour and soft fineness.
Alpaca
Alpaca wool is extremely strong and resilient, yet soft and supple to the touch.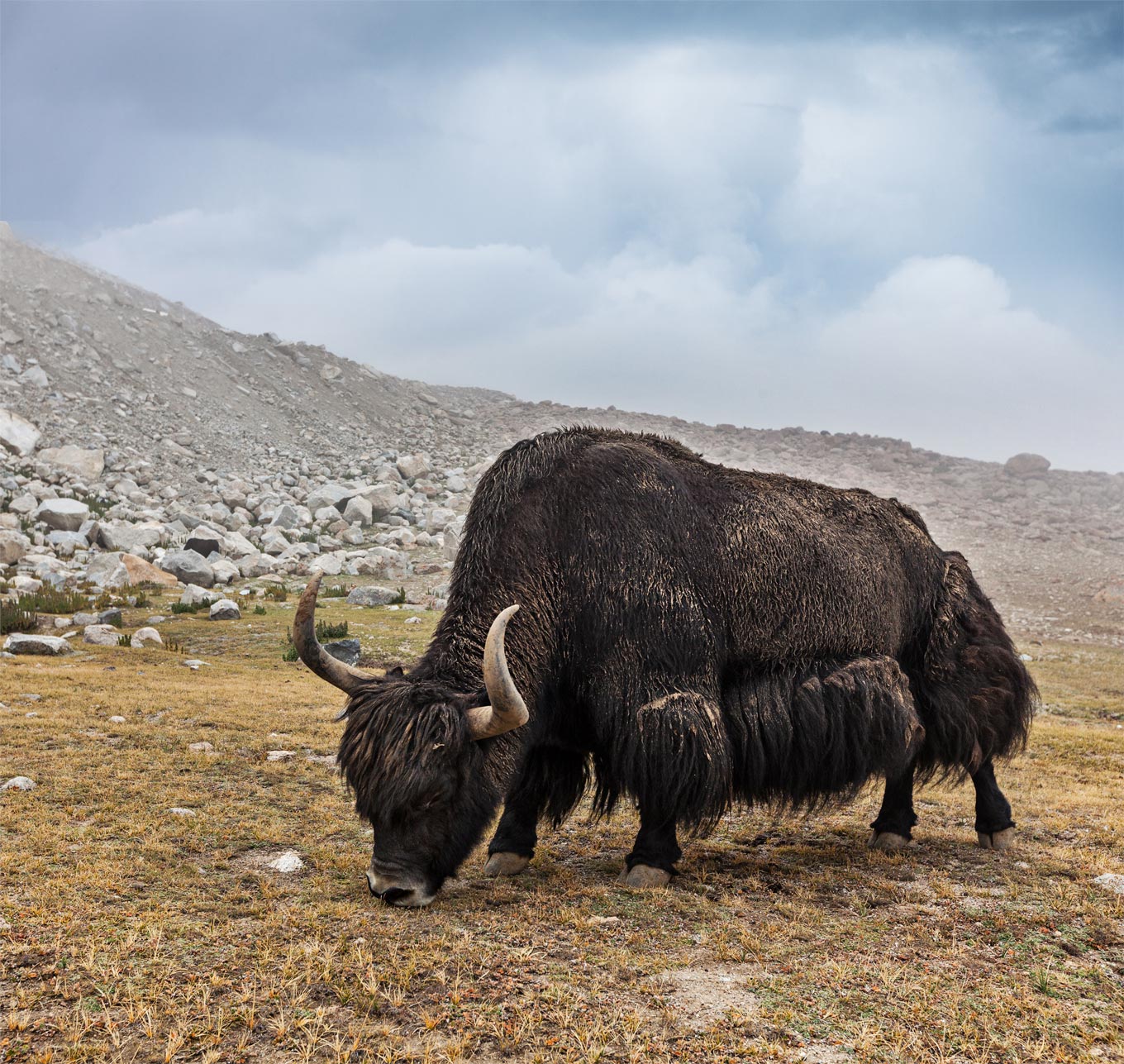 Yak
Yak wool is one of the noble wools and its fibre structure keeps you warm even in sub-zero temperatures.Learn more now

Which felt slippers made of fine wools are available at Gottstein?
We process the precious camel, alpaca and yak wool into our exquisite Magicfelt and Stegman felt slippers. With their puristic design, our felt slippers made of precious wool are something very special. Convince yourself of the unique feel and look.
Wool from merino sheep
Merino sheep wool is very soft and not scratchy. The wool fibre is highly crimped and therefore contains up to 85% air entrapment. Merino wool is therefore very insulating and breathable. Merino wool wicks moisture away very well. The finer the merino wool, the higher its price per kilo. We only use very fine merino wool from New Zealand. Mulesing is prohibited by law there.
Buy Merino Wool Felt Slippers
---
The finest merino wool is processed into our feather-light Magicfelt model. The fine merino wool offers relaxation and rest for your feet thanks to its natural properties. The stylish Magicfelt slippers are anatomically shaped and available in archaic basic colours in a double-face design. Seamlessly moulded over a last, our Magicfelt slippers not only impress with their design but also with their unique wearing comfort.
Apart from sheep's wool, what other natural materials do we need to make our felt slippers?
---
As a family business from Austria, we have been working for generations only with materials that nature gives us. In addition to bright merino wool, selected wool from endangered sheep breeds from Europe and precious wool such as yak, alpaca and camel, we use natural cork, natural latex and vegetable-tanned leather to make our felt slippers.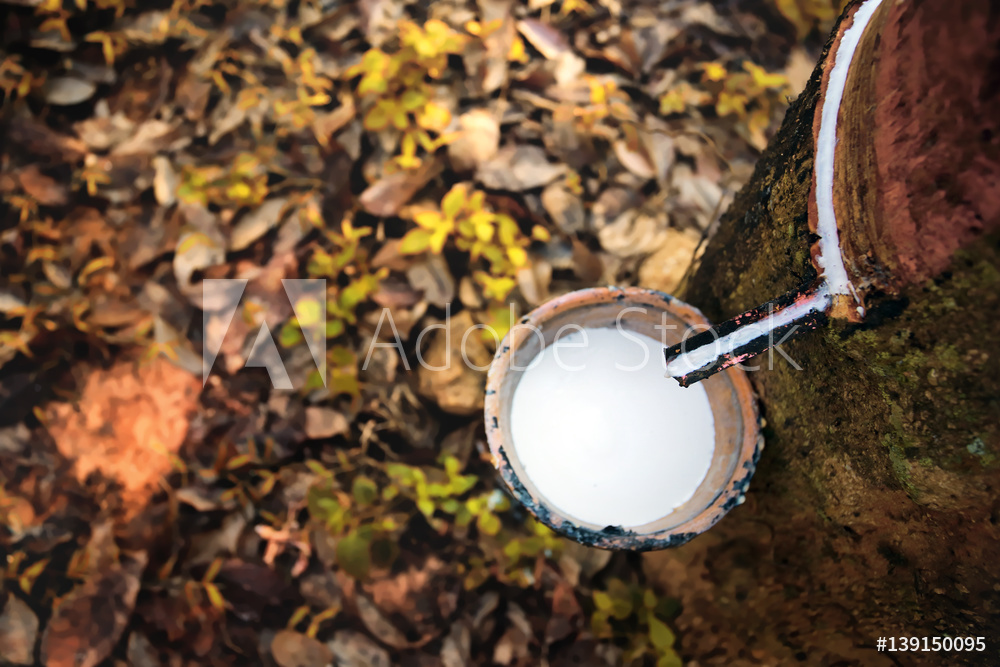 Natural latex
We mould our elastic, water-repellent and very resistant outsoles from the liquid natural latex.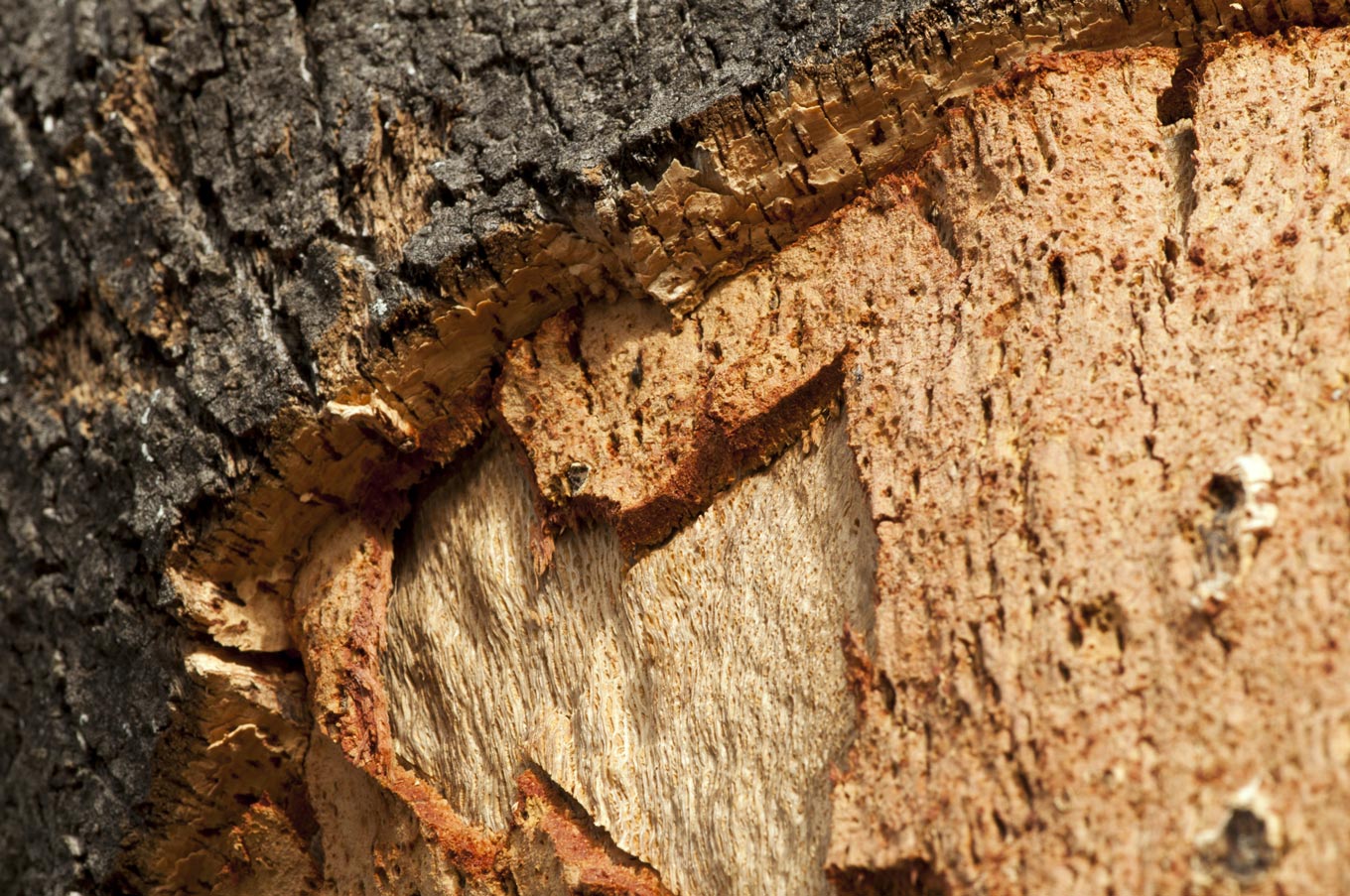 Natural cork
The cork for our felt clogs comes from Portugal. Our felt clogs have a particularly low weight, yet the shoe remains elastic and stable.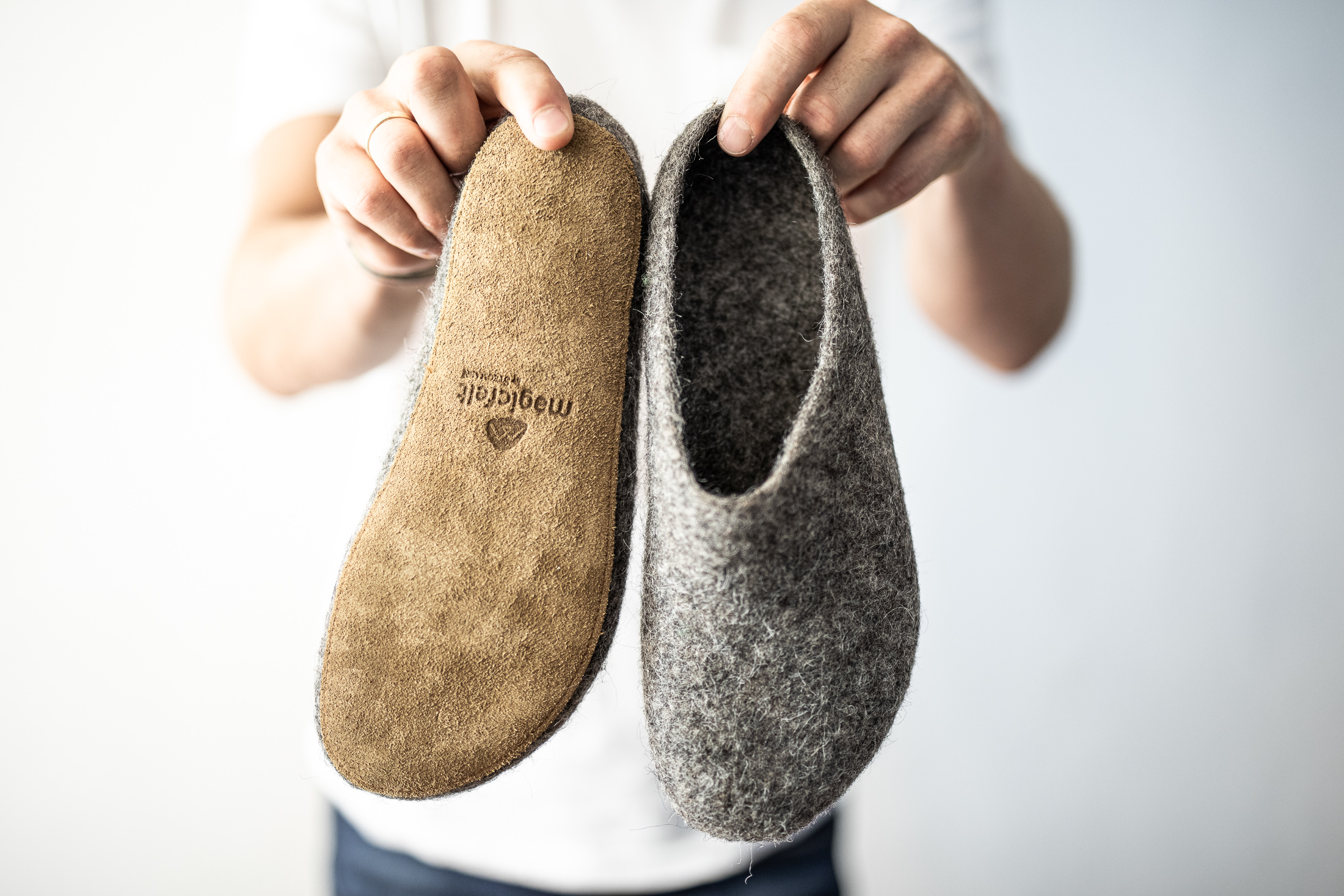 Leather
The cowhide comes from Austria. Due to its special structure, the leather fabric locks itself optimally against moisture and keeps it away from the shoe.