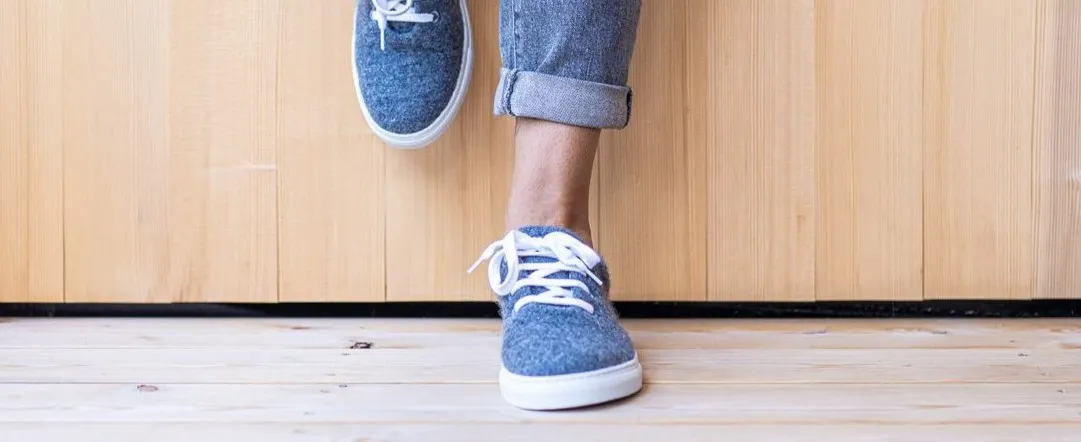 Women's wool sneaker
We're breaking new ground with the Wool Walker. The stylish sneakers made from the finest wool not only cut a fine figure visually, they also offer a unique wearing sensation. The pure new wool regulates the temperature inside the shoe and absorbs moisture to the outside. A stable, lightweight rubber sole guarantees a great wearing experience. See for yourself!
Wool sneakers for women: stylish sneakers made from the finest wool!
Our sneaker made of new wool not only ensures a
pleasant foot climate
, but is also a comfortable and stylish companion on any surface. New wool is temperature-regulating and breathable and thus supports the climate of your feet. Sheep's wool is
antibacterial
and inhibits the colonization of bacteria and subsequently the development of unpleasant odours. With the
Wool Walker 101
you can go
sweat-free
through everyday life even without socks. The removable footbed is cushioned and has a wool overlay. The light rubber sole guarantees a comfortable walking experience. The great thing about our product is that you can easily wash your wool sneaker for women in the washing machine at 30°C on the wool cycle.
What are the advantages of women's wool sneakers and how do they differ from conventional sneakers?
The upper material of wool sneakers is made of 100% wool. Compared to sneakers made of leather or synthetic materials, sneakers made of sheep's wool have many positive properties and a special, unique wearing comfort. Wool sneakers for women feel extremely light on the foot and also combine all the positive properties of wool:
Unique to wear
Breathable
Temperature regulating
anti-odor
particularly easy to care for
Available with a replaceable footbed
Also available as a wool ankle boot
Unique wearing comfort
Thanks to the new wool upper, the special rubber sole and the removable wool footbed, our sneakers for women have a special, unique wearing comfort. Compared to conventional sneakers, they are super light and comfortable to wear.
Breathable
Sheep's wool is inherently breathable. We take advantage of this special property of wool when producing our women's wool sneakers.
Temperature regulating
The temperature-regulating virgin wool creates a perfect climate for your feet. No matter whether in summer or winter, your feet will always feel comfortable in our women's wool sneakers.
anti-odor
Wool is antibacterial and prevents the development of odors. Wool sneakers for women are perfect if you have sweaty feet. Of course, you can also wear the wool sneakers without socks. Sweaty feet don't stand a chance in our wool shoes!
Changeable footbed
Our wool sneakers have a replaceable footbed. The footbed is made from a special cushioning material and covered with a top layer made from a special wool fabric. This ensures optimal cushioning with every step.
Wool sneakers also as ankle boots for women
In addition to the
Wool Walker 101
, we also offer a wool ankle boot for women. It is perfect for the cold autumn and winter days, as it warmly encloses your ankles. Nevertheless, our ankle boot is super light and the wearing comfort is unique. All the positive properties of wool are perfectly combined in this model.
Can women's sneakers made of wool be worn at any time of the year?
Yes, because pure new wool is a real super fibre. Thanks to its temperature-regulating properties, pure wool ensures that your feet do not freeze in winter and new wool protects your feet from the heat in summer. Due to its temperature-regulating properties, pure sheep's wool always ensures an optimal foot climate. In addition, new wool inhibits the development of unpleasant odors thanks to its antibacterial properties. This is how you get sweat-free through summer and winter with your women's wool sneakers - even without socks 😉
How do wool sneakers for women stay dry?
Wool is water repellent. This keeps your women's wool sneakers dry even in wet weather - whether it's drizzle or snowfall. Wool has the wonderful property of being able to absorb up to a third of its own weight in moisture without feeling wet. If the outer layer of the upper feels damp, you can air dry your wool sneakers. Please do not dry your sneakers on a heater or in a tumble dryer!
What do I have to consider when caring for my wool sneakers for women?
Our wool sneakers are super easy to care for. Wool is dirt-repellent. You can remove coarse dirt by simply brushing it out with a soft brush or by tapping it. If you get very dirty, you can easily wash our wool sneakers in the wool cycle at 30°C and then air dry. This makes the sneaker look like new again! You can read more about caring for your wool sneakers here.
Where does the wool for our sneakers come from?
Our wool sneakers are made from
new wool
. From the product idea to the production of the upper material to the shipping of the wool sneaker, all work steps are carried out in our small, family-run
manufactory in Tyrol
. The new wool for our wool sneakers is guaranteed to be
mulesing-free
and is processed by us into our stylish wool sneakers.
In what size should women's wool sneakers be ordered?
It is best to order your women's wool sneakers in your usual shoe size. If you are not sure whether you know your shoe size exactly, you can find our size table and detailed instructions on how to measure your shoe size
here
. Please note that the shoe expands slightly when worn.
Our women's wool sneakers are made from 100% new wool in our small, family-run factory in the Tyrolean mountains. Procurement that is as regional as possible with short transport routes and gentle processing are very important to us. Our women's wool sneakers are manufactured as climate-friendly as possible. Our wool waste is recycled and processed, so the cycle is closed again.
You too can enjoy wearing wool shoes and experience all the positive properties of wool directly on your feet!
A unique wearing experience
Temperature regulating properties
A changeable footbed
In addition, they are:
anti-odor
Easy-care
Also available as an ankle boot made of wool