Gottstein felted wool fabrics
---
Foundet in 1926, we are an Austrian manufacturing company located in the Tyrolian mountains which is still family owned. We are experts when it comes to wool fabrics, wet processing and felted wool with experience for over four generations. Our core competence is the manufacturing of wool fabrics. From knitting through wet processing to finishing, all processes are made in Austria - since day one.
From fibre to fabric
---
Only premium yarns from Austrian yarn suppliers are used for our fine boiled wool. All production steps, from knitting and felting to the final inspection, take place at our factory in Ötztal-Bahnhof in Austria.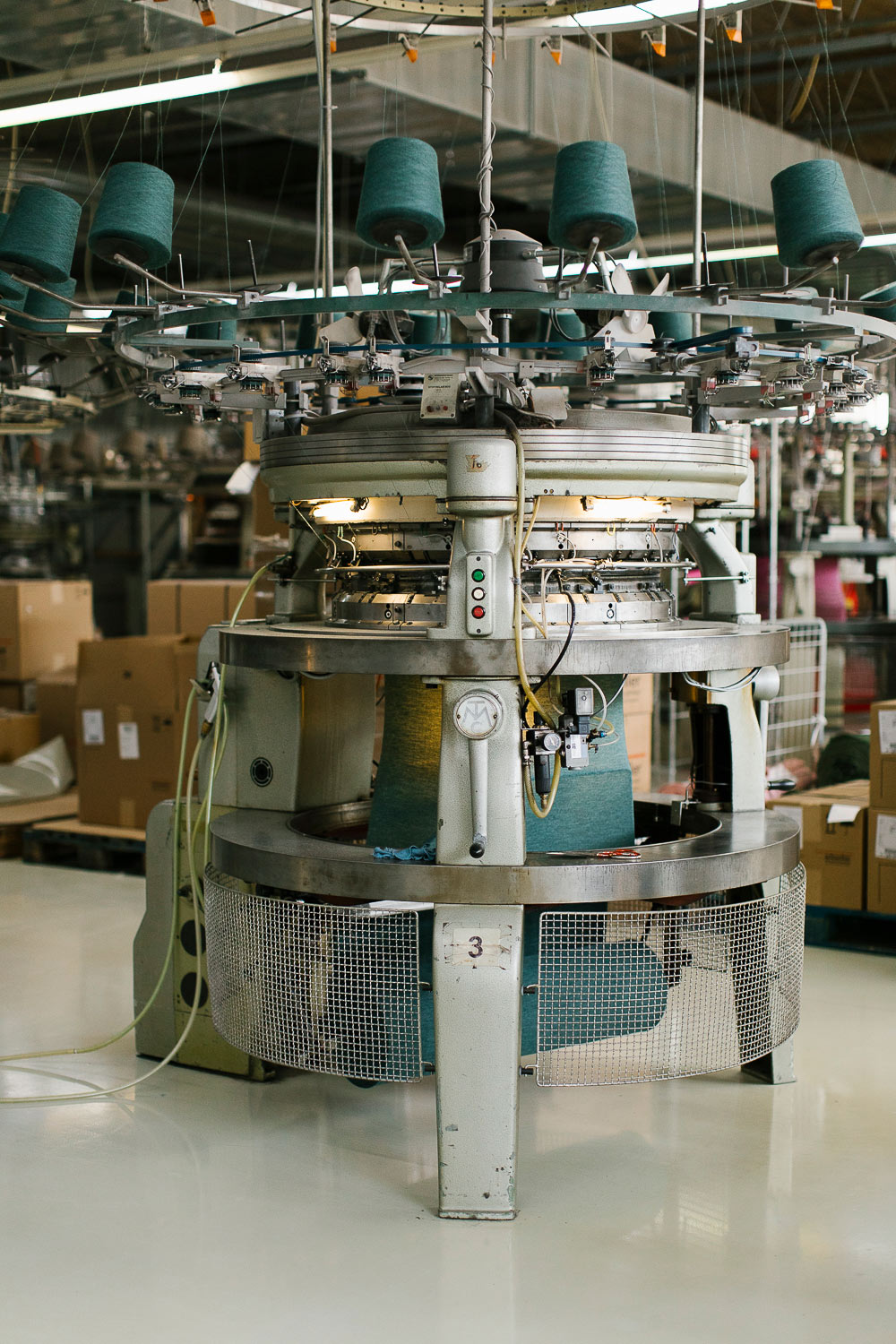 Knitting
We have different circular knitting machines which we use to knit a tube. The starting material for our felted wool fabrics is always a knitted tube with different knitting stiches.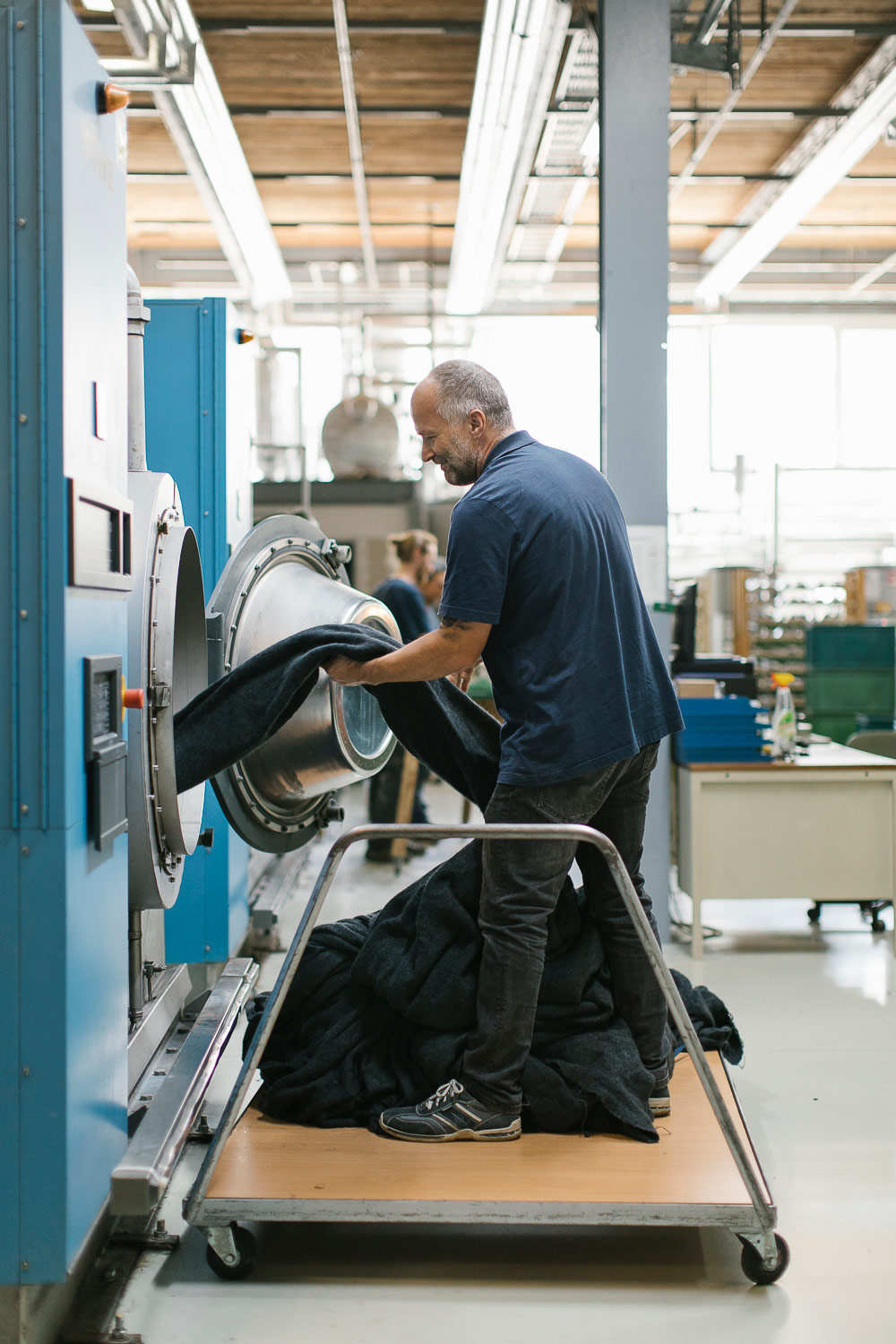 Felting
We wet-felt the fabric by washing with a specific program to get the look & feel we need. We use only water for our wet processing. The fabric changes its structure and it shrinks bay 20-60% depending on the intensity of the treatment. After felting, the fabric is 8-20 times more resistant than the knitted basic material.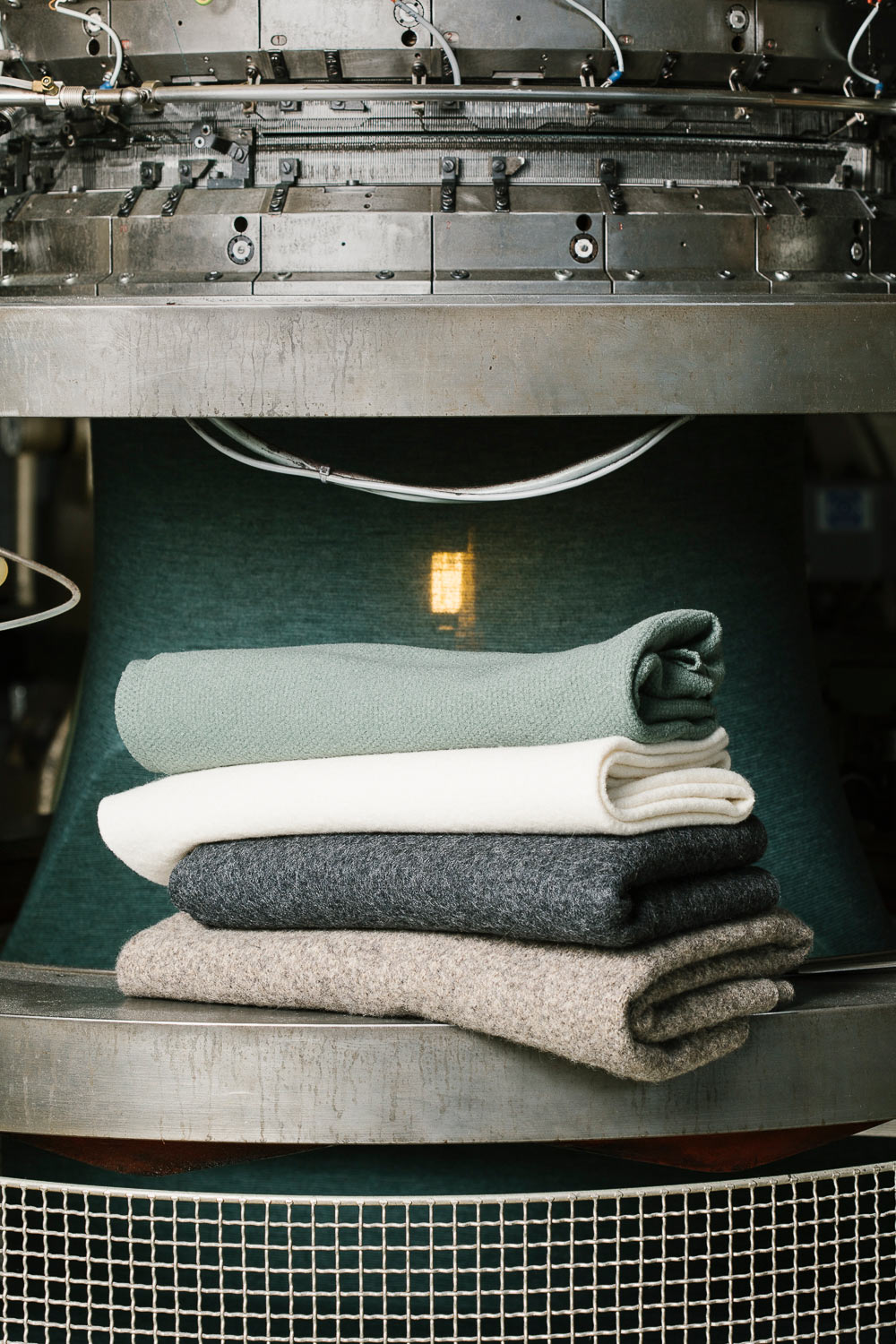 Postprocessing
We cut the wet felted knitted wool tube, rope, dry and iron it. Afterwards each bulk is proofed manually by our quality manager to guaranty our quality standards.
Over 45 different fabric qualities
weight: 230g/m² - 870g/m²
Made of 100% pure new wool
Low minimums ( >15)
Only mulesing free wool used
Merino wool available
Ökotex 100 and or GOTS certified yarns available
Reliefs available
Own colors are possible

Open for new projects

Free shipping within the EU from an order volume >300€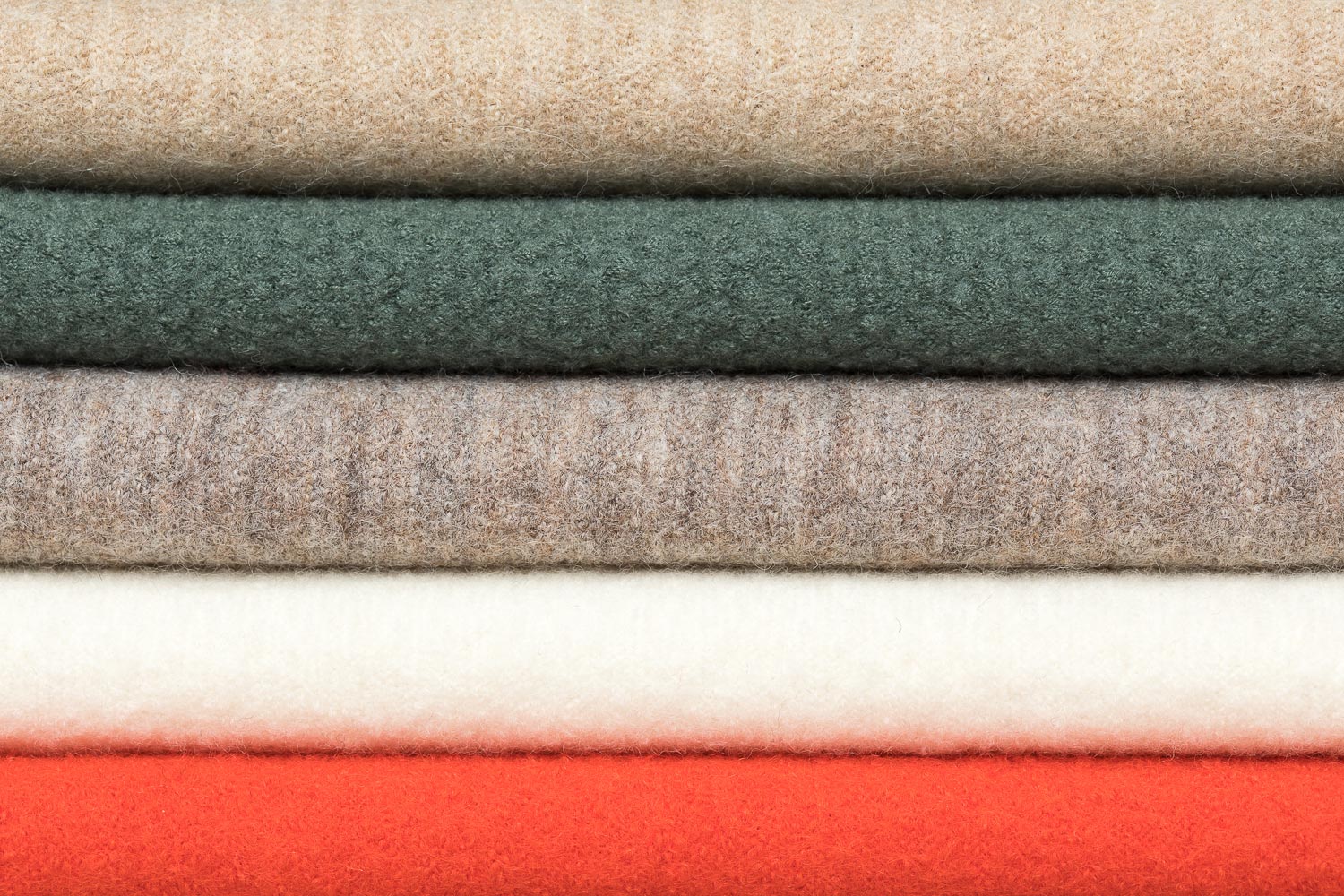 Why Gottstein fabrics?
Pure new wool is an ecological product
Wool is biodegradible
Natural air pockets work temperature equalizing
Breathable
Highly elastic and comfortable
Long lasting and durable
Open edge processing is possible
Wool is very absorbent. It can absorb up to one third of its own weight without feeling wet
Does not wrinkle
Antistatic
Dirt repellent
Handwashing by 30°C possible
Mostly yarns from Austrian yarn suppliers used
All processes are made in our factory in Ötztal-Bahnhof, Tirol (Austria)
The supply chain is monitored carefully
How to treat the Gottstein fabric?
In the case of light soiling, thorough ventilation in the fresh air or in a damp room such as a bathroom is sufficient. Even bad smells can be removed this way. Wool is naturally antibacterial, so germs don't have a chance. Pure new wool is a natural material – no washing is needed. If it is needed we recommend hand wash or machine wash with a special wool wash program in cold water with no more than 30°C -additionally wool detergent recommended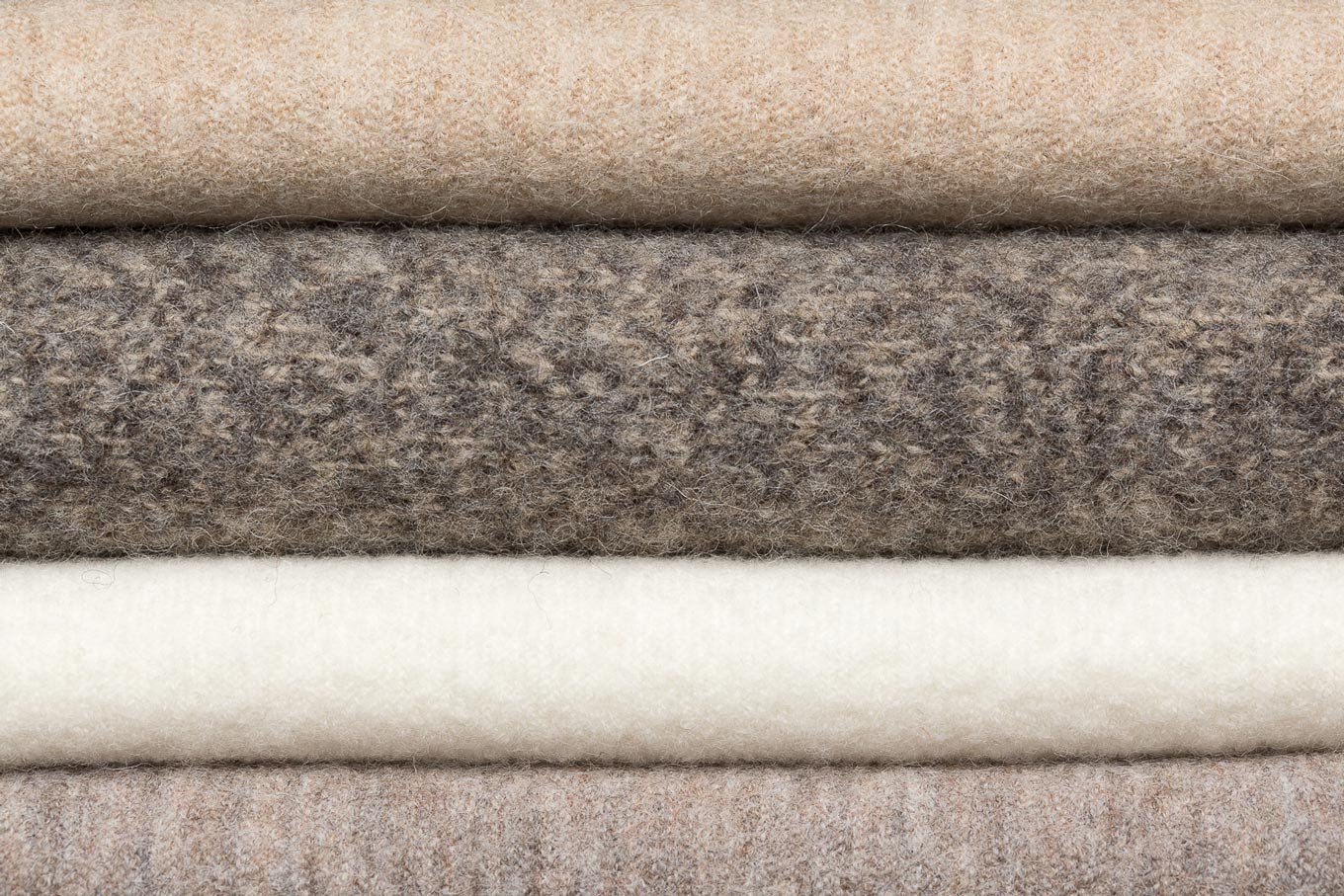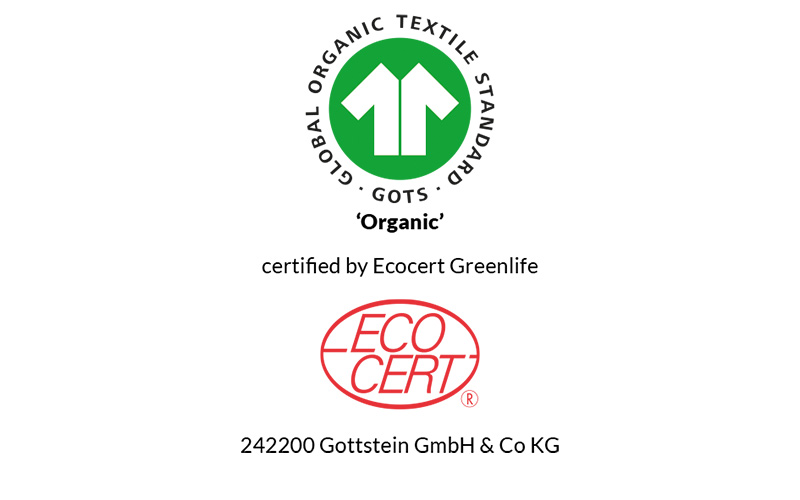 We are GOTS certified!
We have expanded our product portfolio in the GOTS area. We have been GOTS certified since August 2021. From the wool to yarn suppliers to the end consumer, the supply chain can now be closed and traced even more transparently.
The following articles are GOTS certified:
LA 515; LA 534; LA 539; LA 595; LA 596; LA 597; LA 572; LA 573; LA 504; LA514