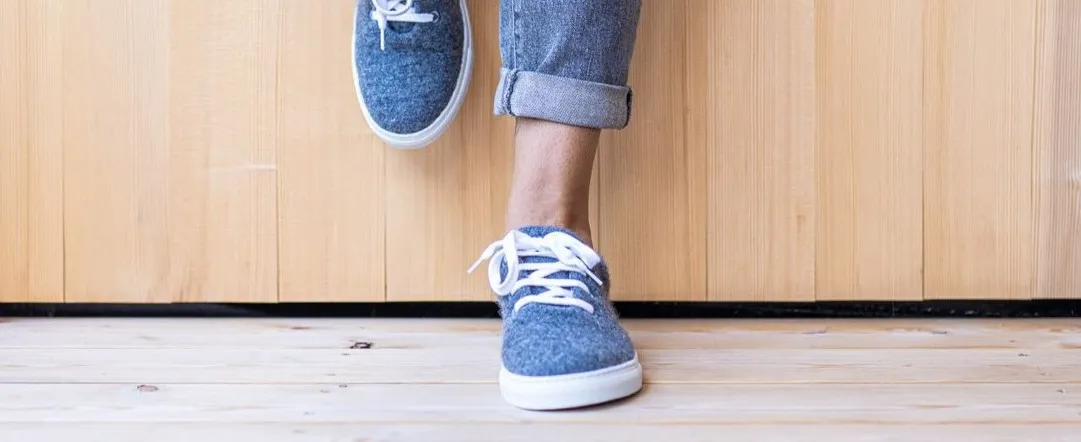 Wool sneakers for men - your companion for every season.
Our modern wool walkers made of virgin wool ensure a pleasant foot climate. The inner sole of the wool sneaker is padded, removable and has a 100% wool overlay. The virgin wool is breathable and temperature-regulating. Discover our models and see for yourself!
Wool sneakers: stylish sneakers made of virgin wool for men!
Sneakers made of virgin wool for men provide a special wearing comfort and a pleasant foot climate. The temperature-regulating and breathable sheep's wool is the perfect material for our wool sneakers. Furthermore, wool is antibacterial and inhibits the development of bacteria and unpleasant odours. With our Woll Walker 101, you can walk sweat-free on any surface, even without socks. Our wool sneaker for men is also available as a stylish ankle boot. The footbed is removable, cushioned and has a virgin wool overlay. The light, profiled rubber sole guarantees an easy walking experience. Optional tonal laces can be ordered. Our wool sneakers for men are machine washable at 30°C.
What are the advantages of wool sneakers for men and how do they differ from conventional sneakers?
Wool sneakers for men have the following advantages compared to conventional sneakers made of plastic, leather or other synthetic materials:
Unique feel: The upper of the sneakers is made of 100% virgin wool from sheep, which is of course mulesing-free and handpicked by us. The lightweight rubber sole and the removable footbed complement our models and additionally support the unique wearing feeling.
Breathable: Wool is breathable and ensures a pleasant climate. Your feet immediately feel relaxed and comfortable.
Temperature-regulating: Sneakers made of wool are temperature-regulating and can be worn in summer and winter.
Odour-inhibiting: Sheep's wool is antibacterial, sweat- and odour-inhibiting. Wet feet don't stand a chance even without socks!
Easy care and machine washable: Wool is very easy to care for. Dirt can be removed by simply tapping them out. Sneakers made of wool can also be washed at 30°C in the washing machine.
Available with a changeable footbed: The footbed, made of a special cushioning material, has a layer of special wool whale. This combines optimal cushioning with the positive, health-promoting properties of wool.
Also available as a wool ankle boot: In addition to the Wool Walker 101, we also have a wool ankle boot in our product portfolio. This boot warmly encloses your ankles and combines all the positive properties of wool. For particularly cold feet, we have a model made of warming alpaca wool, and there is also a sporty model with leather applications.
Can men's wool sneakers be worn in any season?
Yes, men's sneakers made of wool can be worn in any season because wool is temperature regulating. Wool ensures a pleasant foot climate at all times and also inhibits perspiration. Thanks to its antibacterial properties, unpleasant odours don't stand a chance! Your feet are sweat-free even without socks - whether in summer or winter!
Do wool sneakers for men stay dry in rain or snow?
Wool sneakers for men are water-repellent and stay dry in drizzle or snow. Wool is inherently hydrophobic and can absorb up to a third of its own weight in moisture without feeling wet. If the outer layer of your wool sneakers still feels wet, simply air dry them. Please do not dry them on a radiator or in a tumble dryer, as this is not good for the sheep's wool!
How do I care for my men's wool sneakers properly?
Wool sneakers for men are super easy to care for. Coarse dirt can simply be beaten out. For stubborn dirt, you can use a soft brush to brush it out. You can find more care tips
here
.
Can men's wool sneakers be washed in the washing machine?
Our men's wool sneakers can be washed in the washing machine at 30°C wool cycle. Afterwards they look like (almost) new again. Tip: The wool sneakers should be air-dried afterwards. Please do not put the men's wool sneakers in the dryer! This can severely damage the upper material made of wool.
Where does the wool for our men's sneakers come from?
Men's wool sneakers are made from mulesing-free virgin sheep's wool. From the idea to the production of the upper material to the shipping, all steps are carried out in our manufactory in Tyrol.
Which size of our wool sneakers for men is right for you?
It's best to order our wool sneakers in your usual shoe size. Here you can find instructions on how to measure your shoe size correctly. Wool sneakers expand a little when worn, so we recommend that you keep this in mind!
Why should you order wool sneakers for men from Gottstein?
Our wool sneakers are made regionally in our factory in Tyrol. We pay attention to regional sourcing, short transport routes and environmentally friendly processing of our products. The well-being of our employees and sustainable creation are always the focus of our work.
Come and enjoy wearing our woollen sneakers and feel the special feeling on your feet!