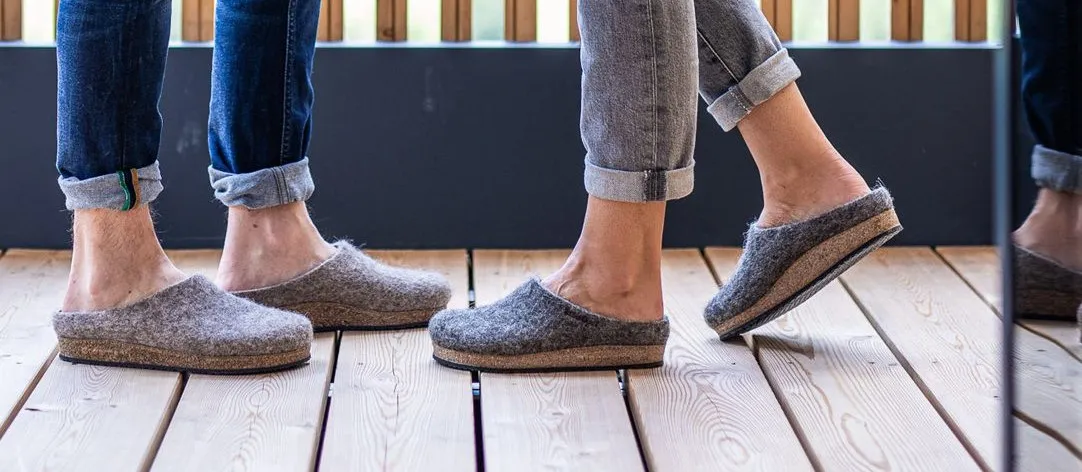 Womens felt clogs for healthy walking
Pure nature: the Stegmann ladies' felt clog is made of pure natural materials. Sheep's wool, cork and natural latex envelop your foot in the most natural way. Pure sheep's wool of the best quality is seamlessly, anatomically felted with Tyrolean mountain water without any chemicals. Pure relaxation!
Buy felt clogs for women at Gottstein
Slippers with a closed front part made of felt and a thick sole are called felt clogs. Our felt clogs are made from pure natural materials and have an anatomically shaped cork-latex sole and an anatomically shaped footbed. All our felt clogs for women are made by hand and with great attention to detail in our manufactory in Tyrol.
The legendary comfort felt clog for women by
Stegmann
is an "icon" among felt clogs. The anatomically shaped footbed made of cork combined with the hard-wearing upper material made of felted sheep's wool ensures a comfortable fit.
The
Stegmann felt clog
is a cult item and has been recommended by customers for many generations. The special thing about it is the
seamlessly felted
, cuddly sheep's wool, which is anatomically felted over a last. The heel is anatomically raised and the sheep's wool comfortably and seamlessly envelops the
entire foot
.
Stegmann women's felt clogs are fulled with pure mountain water without any use of chemicals. Felt wool made of pure sheep's wool is a very robust and breathable material, which is suitable for wearing felt clogs at any time of the year due to its temperature-regulating properties. It is easy to care for and also has a relaxing effect on the muscles of your body.
The cork-latex footbed of our women's felt clogs is extremely
flexible
. The special shape with transverse arch, longitudinal arch and toe grip ensures a unique wearing comfort. In connection with the seamless felt, the special Stegmann cork sole offers your feet the highest level of comfort.
What are the advantages of felt clogs for women?
The felt clog is particularly suitable for you if you like to walk in slippers with a heel. Felt slippers with heels support you when walking, have a positive effect on your body and can prevent back pain. Please note that this positive effect only occurs with slippers with low heels.
Felt clogs for women made of wool also have a unique feel. They are comfortable, light and pure relaxation for your feet. The cozy sheep's wool also has many other advantages:
Wool felt clogs are easy to care for. Wool is self-cleaning and absorbs dirt.
Felt clogs for women are odor-inhibiting and antibacterial.
Wool felt clogs for women are temperature-regulating and a savior for sweaty feet. Sheep's wool ensures a pleasant foot climate - so sweaty feet don't stand a chance.
Ladies felt clogs are suitable for wearing in summer and winter. In addition, due to the unique sole, walking out the door is no problem!
Wool felt clogs for women have a beneficial effect on the body thanks to the lanolin contained in the sheep's wool.
We only use natural materials without chemical additives for our felt clogs.
All felt clogs are traditionally made by hand in our manufactory in Tyrol. So each felt clog is a lovingly made one-off!
We use regional wool for felt clogs made from sheep's wool from rare sheep breeds. With every purchase of such a felt clog, you also support the preservation of rare sheep breeds in Europe and our regional shepherds. You can read more about our heart project here.
What makes women's felt clogs special compared to other slippers?
The Stegmann felt clog is a comfortable and reliable companion in everyday life. The extra-thick cork-latex sole is particularly comfortable and has a relaxing effect on your body. The slight heel of the sole has a positive effect on your posture, relaxes your muscles and prevents back pain. The special shape of the sole with transverse and longitudinal arches and toe grips ensures relaxed and comfortable walking. Your feet are seamlessly wrapped in our natural wool felt. In this way, the sheep's wool can optimally develop all of its positive and health-promoting properties and transfer them to your feet.
What should women pay attention to before buying felt clogs?
The special process for the production of our felt slippers, which has been researched through tradition, is characterized by the
love of craftsmanship
, consistent quality and reliability over the years. We only use natural materials for our felt clogs for women: pure sheep's wool, cork and latex. Every slipper is
handcrafted
by our long-standing employees with great attention to detail and perfection in our
manufactory in Tyrol
. This means that every pair of slippers is unique - made by people for people!
We only use high-quality, pure sheep's wool for our felt slippers. For our heartfelt project to protect endangered sheep breeds, we use regional wool from local shepherds, such as Tyrolean stone sheep wool. You can find out more about endangered sheep breeds here.
For which seasons are the felt clogs for women suitable?
Thanks to the temperature-regulating properties of the sheep's wool, the felt clogs can be worn at any time of the year. The felt made of cuddly wool warms your feet in winter. With sweaty feet, the sheep's wool conducts moisture to the outside thanks to its hygroscopic properties and also has an antibacterial effect. That's why you can wear slippers made of wool in summer without any problems, because the temperature of your feet is naturally and automatically regulated by the felt wool.
Can the women's felt clogs also be worn outside?
Our Stegmann felt clogs for women can also be worn outside without any problem at home. In the USA, the Stegmann felt clog is often used as a pure outdoor shoe and is combined with many fashionable outfits by trend-conscious women. Wool is hydrophobic and therefore moisture-repellent, but the felt clog should never be completely soaked as this can damage the shape.
How do women's felt clogs have to be cared for so that they remain durable?
Wool felt is self-cleaning and very robust. We take advantage of these positive properties of sheep's wool, because our slippers practically clean themselves. If stains are visible on the upper material, they can be removed with a soft cotton cloth or a soft sponge and a little water be removed. Coarse dirt can simply be brushed off with a soft brush. The processing of high-quality wool can sometimes lead to wool pilling. The pills can be removed by shaving them off with a disposable razor, scissors or a stiff brush.
Our
Stegmann felt clogs
are felted with water and thus get their anatomical shape. That's why felt slippers should never be completely soaked, otherwise they'll lose their shape!
In which size should the felt clogs for women be ordered?
Your foot length determines the size of your shoes. A detailed description of how to determine the shoe size can be found
here
. For optimum wearing comfort, we recommend adding a clearance of at least 6 mm between the felt edge of your clog and your heel.
Why should you order felt clogs for women from Gottstein?
Gottstein has specialized in the processing of wool and the production of felt for many generations. Our felt clogs are lovingly made by hand in our factory in Tyrol. We only use high-quality virgin wool from sheep.
A special project aims to protect endangered sheep breeds such as: the
Tyrolean stone sheep
. With the purchase of felt clogs made from the wool of Tyrolean stone sheep, you also actively support the preservation of biodiversity and our regional shepherds.
The advantages of buying felt clogs for women from Gottstein at a glance:
Felt clogs for women made from pure sheep's wool without any additive
Proven and reliable quality
Traditional and regional production
Personal advice by email or telephone